In the Holy Bible, Jesus is recorded as shedding tears three times. In each of these instances, Jesus' tears reflect his deep compassion for humanity. He feels our pain and suffering, and he weeps with us in our sorrows. Through his tears, we see the great love that he has for us – a love that is strong enough to overcome even death itself.
What is the Importance of Jesus Weeping in the Bible?
Jesus weeping shows us that Jesus was a compassionate and emotional person.
In the instances we'll cover below, Jesus' tears show us his great capacity for empathy and compassion. They remind us that, despite being all-powerful, he is also intimately familiar with our pain and suffering. In a world that often seems heartless and cruel, the examples of Jesus weeping in the Bible offer comfort and hope. They remind us that we are not alone in our struggles and that there is someone who understands our pain.
Jesus also weeps because he loves us and doesn't want us to perish. His tears are a reminder that we need to turn to him while there is still time. We need to repent of our sin and receive his forgiveness. Otherwise, we will face the same fate as those whom Jesus wept over: eternal separation from God.
The Connection Between God, Jesus, and Man
My sheep listen to my voice; I know them, and they follow me. I give them eternal life, and they will never perish. No one can snatch them away from me, for my Father has given them to me, and he is more powerful than anyone else. No one can snatch them from the Father's hand. The Father and I are one."

John 10:27-30, NLT
While also divine, our Lord Jesus Christ is of the same human nature we are, he is God come to earth and the perfect sacrifice for the forgiveness of our sins. Some may take their idea of God and argue it is unnatural for one of such stature to cry, but we must keep in mind that man was made in the image of God. Aside from our sins, there is much we have in common with Him and we must remember that Jesus is a reflection of God on earth.
So God created man in his own image, in the image of God created he him; male and female created he them.

Genesis 1:27, KJV
Jesus Christ Weeps over Lazarus
Lazarus was a sick man from Bethany, who was siblings to Mary and her sister Martha. God's Word tells us "Now Jesus loved Martha and her sister and Lazarus," so when he heard the news of Lazarus' illness, he made for them shortly thereafter. When Jesus finally arrived, Mary stayed home but her sister Martha greeted Him exclaiming that her brother Lazarus had passed away.
Now when Mary came to where Jesus was and saw him, she fell at his feet, saying to him, "Lord, if you had been here, my brother would not have died." When Jesus saw her weeping, and the Jews who had come with her also weeping, he was deeply moved in his spirit and greatly troubled. And he said, "Where have you laid him?" They said to him, "Lord, come and see." Jesus wept.

John 11:32-35, ESV
John 11:35 is one of the most well-known verses in the Bible, and for good reason. In it, after Jesus heard of his friend's fate, He weeps over the death of his friend Lazarus. This simple act of grief has profound implications for our understanding of who Jesus is and what he came to do.
On a human level, Jesus wept because he loved Lazarus and was grieving his loss. This was compounded by the sight of Mary and the Jews also weeping.
But on a divine level, Jesus wept because he knew that death was not the end; He had come to defeat death and offer new life to all who would believe in him but recognized that some of those amongst him mourning for Lazarus displayed signs of faithlessness. 
In his weeping, Jesus was expressing both his human sorrow and his divine hope. This verse circles back to remind us that Jesus is both fully human and fully God. He knows our sorrows and our joys, and he weeps with us in our times of grief. But he also offers us the hope of eternal life, a hope that can transform even the deepest grief into rejoicing.
Lazarus is Resurrected
Lazarus was one of Jesus' closest friends, and his death was a great tragedy. But it was also an opportunity for Jesus to show His power over death knowing His friend's resurrection was a part of God's will. 
When Jesus arrived at Lazarus' tomb, He asked that the stone be removed so that He could see His friend's face one last time. Then, He called out Lazarus' name, and Lazarus came forth from the grave, alive and well.
Then Jesus, deeply moved again, came to the tomb. It was a cave, and a stone lay against it.

John 11:38, ESV
When he had said these things, he cried out with a loud voice, "Lazarus, come out." The man who had died came out, his hands and feet bound with linen strips, and his face wrapped with a cloth. Jesus said to them, "Unbind him, and let him go."

John 11:43-44, ESV
Jesus resurrecting Lazarus was proof of His divinity, pointing to the fact that only God has the power to overcome death and Jesus had exclaimed "Did I not tell you that if you believe, you will see the glory of God?" Some argue that Jesus resurrecting Lazarus was also to show His human side. By bringing Lazarus back to life, Jesus showed His compassion and His willingness to help others. Regardless, this miraculous act certainly proved Jesus' power over death and it also showed His great love for Lazarus and all of His friends.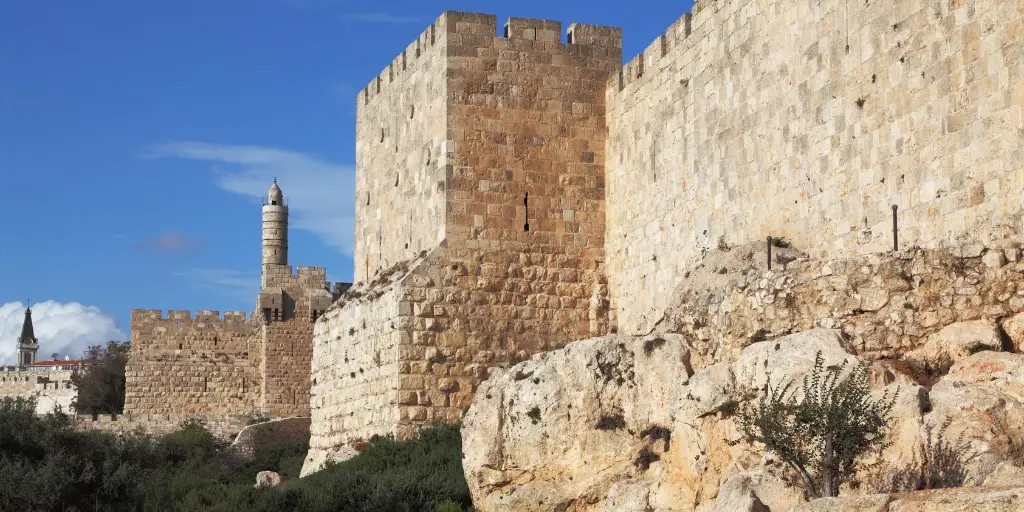 Jesus Weeps for Jerusalem
And when he drew near and saw the city, he wept over it, saying, "Would that you, even you, had known on this day the things that make for peace! But now they are hidden from your eyes.

Luke 19:41-42, ESV
When Jesus entered Jerusalem, he wept over the city because he knew the people there would not accept him as their King and would reject his message of love and forgiveness, which would be followed by the city's destruction many years later. This prophecy of his rejection came true just a few days later when the people turned against him and demanded his execution. As he hung on the cross, dying a painful and humiliating death, Jesus looked down on the city and saw that his warning had come true. The people had not only rejected him, but they had also rejected God's offer of forgiveness and salvation. 
Jesus wept for the people of Jerusalem because he loved them so deeply and wanted them to be saved, He recognized that their only hope for salvation lay in him, and yet they continued to reject him – the city did not believe and therefore would never find everlasting life. Although they did not realize it at the time, Jesus' tears were a sign of his great love for them.
Jesus Weeps During Prayer
In the days of his flesh, Jesus offered up prayers and supplications, with loud cries and tears, to him who was able to save him from death, and he was heard because of his reverence. Although he was a son, he learned obedience through what he suffered. And being made perfect, he became the source of eternal salvation to all who obey him,

Hebrews 5:7-9, ESV
This verse provides us with a glimpse into the humanity of Jesus Christ.
Amid His trials and suffering, He turned to God in prayer. Not only did He simply pray, but He did so with great emotion, pouring out His heart to His Father. What caused Jesus to weep in this particular instance? We can only speculate, but it likely may have been due to the weight of His upcoming sacrifice. 
He knew that He would soon be crucified on the cross, and the thought of His impending death may have been a challenge for Him to bear. 
He may have also been weeping for the people who were still lost in their sin. He loved them so much that He was willing to lay down His life for them, and yet they remained blinded to the truth, and He knew they would be lost and without eternal life. 
It is also possible that He was weeping for the sorrow and grief that His death would cause His disciples.
Whatever the reason for His tears, we see in this verse that Jesus was a compassionate and feeling Savior who knows our sorrows and hurts.
What Can We Learn From Jesus Weeping in the Bible?
Jesus wept. This simple act is recorded in the shortest verse of the Bible, John 11:35. But what can we learn from this verse? What can we learn from the weeping of the Only Begotten Son of God?
Firstly, we learn that Jesus is a God who feels emotion. He is not an impassive being who is above feeling sorrow or pain. Instead, He enters into our sorrow and weeps with us. This shows us that He is a compassionate God who understands our hurt and is willing to comfort us in our time of need.
Secondly, while in our society crying is often seen as a sign of weakness, Jesus shows us that this is not the case. He wept openly and freely, yet He was still the Son of God and the Savior of the world. He shows us that it is okay to be emotional and to express our feelings; weeping is not a sign of weakness, but rather a sign of strength and courage.
Lastly, we learn that even amid sorrow, hope still exists. When Jesus knew His friend Lazarus was lying dead in the tomb, He wept. But then He went on to perform one of the greatest miracles recorded in Scripture.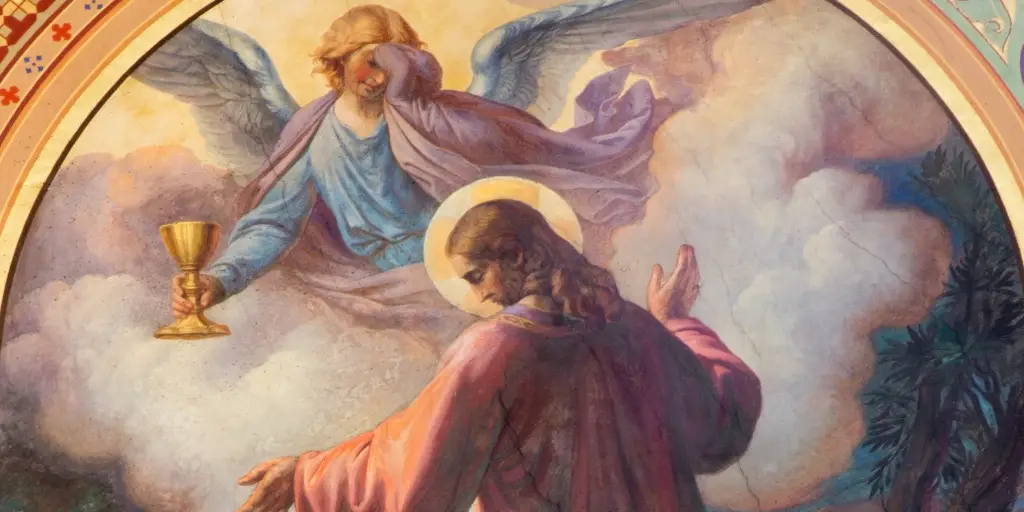 Other Instances of Christ Jesus Experiencing Great Sadness
Gethsemane
He went away again the second time, and prayed, saying, O my Father, if this cup may not pass away from me, except I drink it, thy will be done.

Matthew 26:42, KJV
On the Cross
And about the ninth hour Jesus cried with a loud voice, saying, Eli, Eli, lama sabachthani? that is to say, My God, my God, why hast thou forsaken me?

Matthew 27:46, KJV
One would be hard-pressed to argue this isn't an example of Jesus weeping (it may have been!), though we must also recognize that 'crying out' isn't necessarily the same as a sadness that provokes tears, but rather a description of the manner in which he spoke aloud.
Bible Verses about Weeping as a Theme
Did not I weep for him that was in trouble? was not my soul grieved for the poor?

Job 30:25, KJV
For his anger lasts only a moment,

    but his favor lasts a lifetime;

weeping may stay for the night,

    but rejoicing comes in the morning.

Psalm 30:5, NIV
If only my head were a pool of water

    and my eyes a fountain of tears,

I would weep day and night

    for all my people who have been slaughtered.

Jeremiah 9:1, NLT
He will wipe away every tear from their eyes, and death shall be no more, neither shall there be mourning, nor crying, nor pain anymore, for the former things have passed away."

Revelation 21:4, ESV
"And I will pour on the house of David and on the inhabitants of Jerusalem the Spirit of grace and supplication; then they will look on Me whom they pierced. Yes, they will mourn for Him as one mourns for his only son, and grieve for Him as one grieves for a firstborn.

Zechariah 12:10, NKJV
A time to weep, and a time to laugh; a time to mourn, and a time to dance;

Ecclesiastes 3:4, KJV
he will swallow up death forever.

The Sovereign Lord will wipe away the tears

    from all faces;

he will remove his people's disgrace

    from all the earth.

The Lord has spoken.

Isaiah 25:8, NIV
The eyes of the Lord watch over those who do right;

    his ears are open to their cries for help.

Psalm 34:15, NLT
"Now, O Lord, please remember how I have walked before you in faithfulness and with a whole heart, and have done what is good in your sight." And Hezekiah wept bitterly.

2 Kings 20:3, ESV
And Peter remembered the word of Jesus who had said to him, "Before the rooster crows, you will deny Me three times." So he went out and wept bitterly.

Matthew 26:75, NKJV
And David went up by the ascent of mount Olivet, and wept as he went up, and had his head covered, and he went barefoot: and all the people that was with him covered every man his head, and they went up, weeping as they went up.

2 Samuel 15:30, KJV
Rejoice with those who rejoice; mourn with those who mourn.

Romans 12:15, NIV
For the Lamb on the throne

    will be their Shepherd.

He will lead them to springs of life-giving water.

    And God will wipe every tear from their eyes."

Revelation 7:17, NLT
For many, of whom I have often told you and now tell you even with tears, walk as enemies of the cross of Christ. Their end is destruction, their god is their belly, and they glory in their shame, with minds set on earthly things. But our citizenship is in heaven, and from it we await a Savior, the Lord Jesus Christ,

Philippians 3:18-20, ESV
Those who sow in tears

Shall reap in joy.

He who continually goes forth weeping,

Bearing seed for sowing,

Shall doubtless come again with rejoicing,

Bringing his sheaves with him.

Psalm 126:5-6, NKJV
And it came to pass, when the angel of the Lord spake these words unto all the children of Israel, that the people lifted up their voice, and wept.

Judges 2:4, KJV
The Israelites grieved for Moses in the plains of Moab thirty days, until the time of weeping and mourning was over.

Deuteronomy 34:8, NIV
And immediately the rooster crowed the second time.

Suddenly, Jesus' words flashed through Peter's mind: "Before the rooster crows twice, you will deny three times that you even know me." And he broke down and wept.

Mark 14:72, NLT
When the righteous cry for help, the Lord hears

    and delivers them out of all their troubles.

Psalm 34:17, ESV
---
For more articles on biblical themes, please reference our articles here.
This article references verses written from the King James Version (KJV), New International Version (NIV), New Living Translation (NLT), English Standard Version (ESV), and New King James Version (NKJV) translations of the Bible.