The Holy Bible contains many verses that offer guidance on how to live a healthy life. These verses encourage us to take care of our bodies and avoid sinful behavior, both of which are important for maintaining good health. It is important to recognize that physical, mental and spiritual health are all important in the eyes of God.
Trust in the Lord with all your heart,
    and do not lean on your own understanding.
In all your ways acknowledge him,
    and he will make straight your paths.
Be not wise in your own eyes;
    fear the Lord, and turn away from evil.
It will be healing to your flesh
    and refreshment to your bones.

Proverbs 3:5-8, ESV
In addition, the Bible contains numerous verses about healthy eating habits. These verses remind us that we should eat nutritious foods that will help our bodies to function properly. By following the guidance found in Scripture, we can develop healthy habits that will lead to overall wellness.
In the Old Testament God gives Moses specific instructions for the Israelites on how to stay clean and avoid diseases. These laws included guidelines for personal hygiene, food preparation, and even garbage disposal. 
In the New Testament, our Lord Jesus Christ often healed people of their ailments, and he also taught his disciples how to pray for the sick. The book of Proverbs contains many verses on the importance of taking care of our bodies, and Paul's letters advise on how to live healthy lives. 
The physical aspects of health are pretty self-explanatory—eating nutritious foods, getting regular exercise, getting enough sleep, etc. However, the spiritual side of health is often overlooked. Spiritual health includes things like having a sense of purpose, feeling connected to others through faith, and having a positive outlook on life. 
Ultimately, the Bible is clear that taking care of our health, in all regards, is important to God. He wants us to be physically and spiritually healthy so that we can be better equipped to serve him and others. 
When both physical and spiritual health are in balance, a person can reach their full potential.
As health and healing often go hand-in-hand, you can find similarly themed verses about the theme of healing here.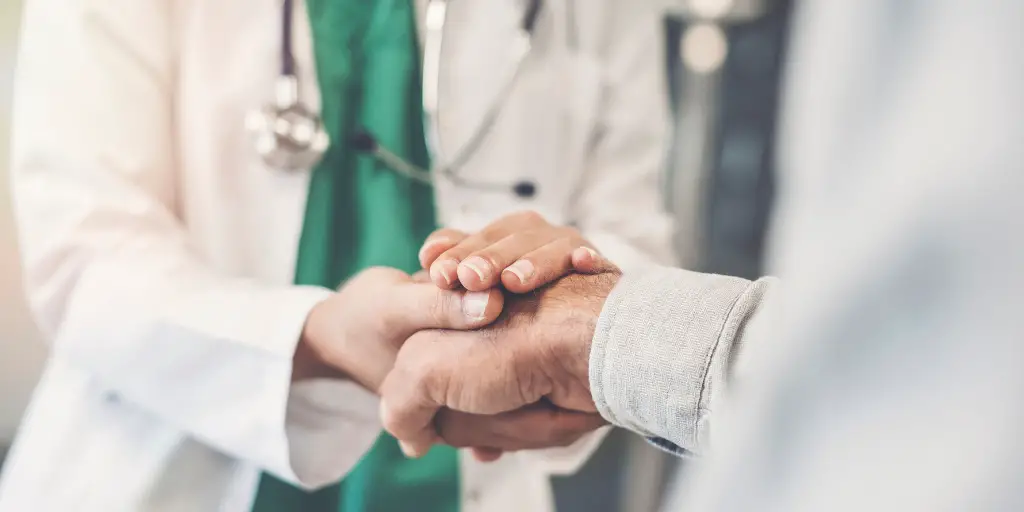 Bible Verses about Health
15 And the Lord will take away from thee all sickness, and will put none of the evil diseases of Egypt, which thou knowest, upon thee; but will lay them upon all them that hate thee.
Deuteronomy 7:15, KJV
17 If anyone destroys God's temple, God will destroy that person; for God's temple is sacred, and you together are that temple.

1 Corinthians 3:17, NIV
34 Peter said to him, "Aeneas, Jesus Christ heals you! Get up, and roll up your sleeping mat!" And he was healed instantly.
Acts 9:34, NLT
38 how God anointed Jesus of Nazareth with the Holy Spirit and with power. He went about doing good and healing all who were oppressed by the devil, for God was with him.

Acts 10:38, ESV
34 Therefore I urge you to take nourishment, for this is for your survival, since not a hair will fall from the head of any of you."
Acts 27:34, NKJV
13 Let us hear the conclusion of the whole matter: Fear God, and keep his commandments: for this is the whole duty of man.

Ecclesiastes 12:13, KJV
17 But I will restore you to health
    and heal your wounds,'
declares the Lord,
'because you are called an outcast,
    Zion for whom no one cares.'
Jeremiah 30:17, NIV
10 Let me clearly state to all of you and to all the people of Israel that he was healed by the powerful name of Jesus Christ the Nazarene, the man you crucified but whom God raised from the dead. 11 For Jesus is the one referred to in the Scriptures, where it says,

'The stone that you builders rejected

    has now become the cornerstone.'

Acts 4:10-11, NLT
19 Or do you not know that your body is a temple of the Holy Spirit within you, whom you have from God? You are not your own, 20 for you were bought with a price. So glorify God in your body.
1 Corinthians 6:19-20, ESV
26 and said, "If you diligently heed the voice of the Lord your God and do what is right in His sight, give ear to His commandments and keep all His statutes, I will put none of the diseases on you which I have brought on the Egyptians. For I am the Lord who heals you."

Exodus 15:26, NKJV
29 For no man ever yet hated his own flesh; but nourisheth and cherisheth it, even as the Lord the church:
Ephesians 5:29, KJV
1 The Lord said to Moses and Aaron, 2 "Say to the Israelites: 'Of all the animals that live on land, these are the ones you may eat: 3 You may eat any animal that has a divided hoof and that chews the cud.

Leviticus 11:1-3, NIV
16 Confess your sins to each other and pray for each other so that you may be healed. The earnest prayer of a righteous person has great power and produces wonderful results.
James 5:16, NLT
31 And Jesus answered them, "Those who are well have no need of a physician, but those who are sick. 32 I have not come to call the righteous but sinners to repentance."

Luke 5:31-32, ESV
29 And God said, "See, I have given you every herb that yields seed which is on the face of all the earth, and every tree whose fruit yields seed; to you it shall be for food.
Genesis 1:29, NKJV
6 Be careful for nothing; but in every thing by prayer and supplication with thanksgiving let your requests be made known unto God.

7 And the peace of God, which passeth all understanding, shall keep your hearts and minds through Christ Jesus.

Philippians 4:6-7, KJV
12 When Jesus saw her, he called her forward and said to her, "Woman, you are set free from your infirmity." 13 Then he put his hands on her, and immediately she straightened up and praised God.
Luke 13:12-13, NIV
12 When Jesus heard this, he said, "Healthy people don't need a doctor—sick people do." 13 Then he added, "Now go and learn the meaning of this Scripture: 'I want you to show mercy, not offer sacrifices.' For I have come to call not those who think they are righteous, but those who know they are sinners."

Matthew 9:12-13, NLT
34 "Therefore do not be anxious about tomorrow, for tomorrow will be anxious for itself. Sufficient for the day is its own trouble.
Matthew 6:34, ESV
14 Is anyone among you sick? Let him call for the elders of the church, and let them pray over him, anointing him with oil in the name of the Lord. 15 And the prayer of faith will save the sick, and the Lord will raise him up. And if he has committed sins, he will be forgiven.

James 5:14-15, NKJV
20 My son, attend to my words; incline thine ear unto my sayings.
21 Let them not depart from thine eyes; keep them in the midst of thine heart.
22 For they are life unto those that find them, and health to all their flesh.
Proverbs 4:20-22, KJV
7 Cast all your anxiety on him because he cares for you.

1 Peter 5:7, NIV
15 And remember, our Lord's patience gives people time to be saved. This is what our beloved brother Paul also wrote to you with the wisdom God gave him—
2 Peter 3:15, NLT
18 There is one whose rash words are like sword thrusts,

    but the tongue of the wise brings healing.

Proverbs 12:18, ESV
12 Hope deferred makes the heart sick,
But when the desire comes, it is a tree of life.
Proverbs 13:12, NKJV
17 A wicked messenger falleth into mischief: but a faithful ambassador is health.

Proverbs 13:17, KJV
24 Gracious words are a honeycomb,
    sweet to the soul and healing to the bones.
Proverbs 16:24, NIV
25 Anxiety in a man's heart weighs him down,

    but a good word makes him glad.

Proverbs 12:25, ESV
1 Wine is a mocker and beer a brawler;
    whoever is led astray by them is not wise.
Proverbs 20:1, NIV
22 A joyful heart is good medicine,

    but a crushed spirit dries up the bones.

Proverbs 17:22, ESV
14 But the Spirit of the Lord departed from Saul, and an evil spirit from the Lord troubled him.
15 And Saul's servants said unto him, Behold now, an evil spirit from God troubleth thee.
1 Samuel 16:14-15, KJV
26 My flesh and my heart may fail,

    but God is the strength of my heart and my portion forever.

Psalm 73:26, ESV
1 Bless the Lord, O my soul,
    and all that is within me,
    bless his holy name!
2 Bless the Lord, O my soul,
    and forget not all his benefits,
3 who forgives all your iniquity,
    who heals all your diseases,
4 who redeems your life from the pit,
    who crowns you with steadfast love and mercy,
5 who satisfies you with good
    so that your youth is renewed like the eagle's.
Psalm 103:1-5, ESV
8 For physical training is of some value, but godliness has value for all things, holding promise for both the present life and the life to come.

1 Timothy 4:8, NIV
4 He will wipe away every tear from their eyes, and death shall be no more, neither shall there be mourning, nor crying, nor pain anymore, for the former things have passed away."
Revelation 21:4, ESV
2 The Lord is my strength and my song;

    he has given me victory.

This is my God, and I will praise him—

    my father's God, and I will exalt him!

Exodus 15:2, NLT
12 I appeal to you therefore, brothers, by the mercies of God, to present your bodies as a living sacrifice, holy and acceptable to God, which is your spiritual worship. 2 Do not be conformed to this world, but be transformed by the renewal of your mind, that by testing you may discern what is the will of God, what is good and acceptable and perfect.
Romans 12:1-2, ESV
7 for God gave us a spirit not of fear but of power and love and self-control.

2 Timothy 1:7, ESV
Key Takeaways on Bible Verses for Health
Proverbs 3:8 declares following God's wisdom leads to healing and refreshment. The Bible connects spiritual and physical health.
1 Corinthians 6:19-20 teaches our bodies are temples of the Holy Spirit so we should honor God in how we care for our health.
Jesus often healed the sick during his ministry, demonstrating God's compassion and power. Multiple verses depict healing through faith.
Old Testament laws guided the Israelites on hygiene, diet, and disease prevention. New Testament letters advise on living wisely.
Verses promote wholesome eating, prudent habits, trusting God's care and finding contentment to support wellbeing.
Scripture urges turning from sinful behaviors that harm health like gluttony, drunkenness, and anxiety. These erode wellness.
According to passages in James, prayers offered in faith can save and heal the sick. Elders can anoint believers who are ill.
The Bible connects peace, joy, wisdom, and righteousness to health. A crushed spirit and sinful actions undermine health.
Key verses depict complete health as encompassing spiritual, mental, emotional, and physical domains working in harmony.
God promises to restore health, take away disease, and heal wounds among those who faithfully follow Him.
FAQs
What does the Bible say about health and healing?
The Bible contains advice on hygiene, nutrition, healthy habits, managing stress, and finding contentment. It also depicts healing through prayer and connects spiritual devotion with wellbeing.
Where in the Bible does it talk about health?
Major passages about health include Exodus 15:26, Leviticus 11, Proverbs 3:5-8, Proverbs 4:20-22, Matthew 9:12-13, 1 Corinthians 6:19-20, and James 5:14-16.
What are some biblical principles for health?
Principles include caring for your body as God's temple, keeping your heart and mind set on Christ, pursuing moderation, showing gratitude, serving others, trusting God to meet needs, and praying for healing.
How does the Bible say to take care of your health?
The Bible advises eating nutritious food, practicing self-control, avoiding drunkenness and gluttony, managing stress through prayer with thanksgiving, regularly resting, and living at peace with others.
What dietary advice does the Bible give?
Biblical dietary advice includes eating meat, fish, vegetables, seeds, nuts in moderation, avoiding unclean foods, and not overindulging in wine or rich foods. Water is encouraged as the healthiest drink.
What does the Bible say about healing?
The Bible encourages praying in faith for healing, anointing the sick, confessing sins, seeking godly counsel, and relying on Jesus who has power to heal all diseases and restore health through mercy.
How does faith relate to health according to the Bible?
The Bible frequently connects having faith in God and His power with receiving healing, such as in passages like Proverbs 3:5-8, Matthew 9:29, and James 5:14-15. Faith impacts spiritual, mental, and physical health.
What are Bible verses for strength and healing?
Key Bible verses for strength and healing include Exodus 15:2, Psalm 73:26, Psalm 103:1-5, Proverbs 16:24, Proverbs 17:22, Matthew 6:34, 1 Corinthians 6:19-20, Philippians 4:6-7, James 5:16.
How can I motivate myself to live healthy biblically?
You can motivate yourself by meditating on verses about honoring God with your body, praying for self-discipline, focusing on the connection between spiritual devotion and health, and reflecting on Christ's healing miracles.
What are the most encouraging Bible verses for health?
Very encouraging Bible verses for health are Exodus 23:25, Psalm 30:2, Psalm 91:9-10, Psalm 103:2-3, Psalm 118:17, Proverbs 3:7-8, Isaiah 53:5, Matthew 8:2-3, 1 Corinthians 6:19-20, 3 John 1:2.
---
For more articles on biblical themes, please reference our articles here.
This article references verses written from the King James Version (KJV), New International Version (NIV), New Living Translation (NLT), English Standard Version (ESV), and New King James Version (NKJV) translations of the Bible.