There is a take on a common phrase that says the measure of a man is not in his physical strength, but in his spiritual strength. While it is true that physical strength can be a valuable quality, it is ultimately spiritual strength that determines the quality of a man's character. Someone who is spiritually strong can be an admirable person, possessing the courage and fortitude to stand up for what they believe in despite the odds. 
In the end, it is spiritual strength that truly counts.
Through the Holy Bible, God's word tells us that "God is our refuge and strength, an ever-present help in trouble." This means that no matter what challenges we face, God is always there to help us. He will give us the strength we need to overcome any obstacle.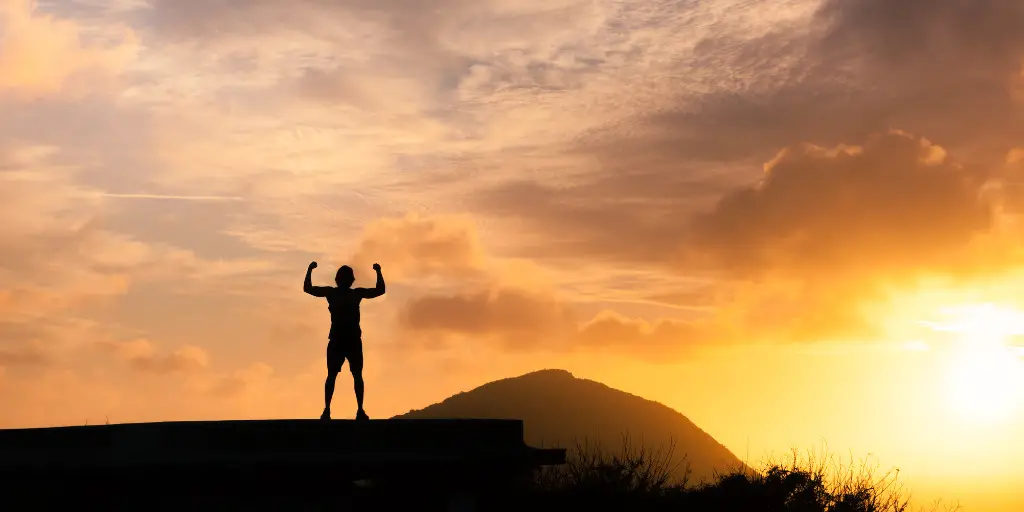 Bible Verses about Strength
9 But he said to me, "My grace is sufficient for you, for my power is made perfect in weakness." Therefore I will boast all the more gladly about my weaknesses, so that Christ's power may rest on me.
13 Be watchful, stand firm in the faith, act like men, be strong.
16 Therefore we do not lose heart. Even though our outward man is perishing, yet the inward man is being renewed day by day. 17 For our light affliction, which is but for a moment, is working for us a far more exceeding and eternal weight of glory, 18 while we do not look at the things which are seen, but at the things which are not seen. For the things which are seen are temporary, but the things which are not seen are eternal.
12 For the word of God is quick, and powerful, and sharper than any twoedged sword, piercing even to the dividing asunder of soul and spirit, and of the joints and marrow, and is a discerner of the thoughts and intents of the heart.
10 Finally, be strong in the Lord and in his mighty power.
19 The Sovereign Lord is my strength!

    He makes me as surefooted as a deer,

    able to tread upon the heights.
11 Seek the Lord and his strength;
    seek his presence continually!
10 Therefore I take pleasure in infirmities, in reproaches, in needs, in persecutions, in distresses, for Christ's sake. For when I am weak, then I am strong.
2 Behold, God is my salvation; I will trust, and not be afraid: for the Lord Jehovah is my strength and my song; he also is become my salvation.
2 "The Lord is my strength and my defense;

    he has become my salvation.

He is my God, and I will praise him,

    my father's God, and I will exalt him.
6 Be strong and courageous. Do not fear or be in dread of them, for it is the Lord your God who goes with you. He will not leave you or forsake you."
10 Fear not, for I am with you;

Be not dismayed, for I am your God.

I will strengthen you,

Yes, I will help you,

I will uphold you with My righteous right hand.'
16 that according to the riches of his glory he may grant you to be strengthened with power through his Spirit in your inner being,
15 For thus saith the Lord God, the Holy One of Israel; In returning and rest shall ye be saved; in quietness and in confidence shall be your strength: and ye would not.
17 "O Sovereign Lord! You made the heavens and earth by your strong hand and powerful arm. Nothing is too hard for you!
13 "You have led in your steadfast love the people whom you have redeemed;

    you have guided them by your strength to your holy abode.
9 Have not I commanded thee? Be strong and of a good courage; be not afraid, neither be thou dismayed: for the Lord thy God is with thee whithersoever thou goest.
10 Then Joshua commanded the officers of the people, saying,
11 Pass through the host, and command the people, saying, Prepare you victuals; for within three days ye shall pass over this Jordan, to go in to possess the land, which the Lord your God giveth you to possess it.
20 He replied, "Because you have so little faith. Truly I tell you, if you have faith as small as a mustard seed, you can say to this mountain, 'Move from here to there,' and it will move. Nothing will be impossible for you."
10 And Nehemiah continued, "Go and celebrate with a feast of rich foods and sweet drinks, and share gifts of food with people who have nothing prepared. This is a sacred day before our Lord. Don't be dejected and sad, for the joy of the Lord is your strength!"
28 Have you not known? Have you not heard?

The Lord is the everlasting God,

    the Creator of the ends of the earth.

He does not faint or grow weary;

    his understanding is unsearchable.

29 He gives power to the faint,

    and to him who has no might he increases strength.

30 Even youths shall faint and be weary,

    and young men shall fall exhausted;

31 but they who wait for the Lord shall renew their strength;

    they shall mount up with wings like eagles;

they shall run and not be weary;

    they shall walk and not faint.
31 "Therefore do not worry, saying, 'What shall we eat?' or 'What shall we drink?' or 'What shall we wear?' 32 For after all these things the Gentiles seek. For your heavenly Father knows that you need all these things. 33 But seek first the kingdom of God and His righteousness, and all these things shall be added to you. 34 Therefore do not worry about tomorrow, for tomorrow will worry about its own things. Sufficient for the day is its own trouble.
11 If any man speak, let him speak as the oracles of God; if any man minister, let him do it as of the ability which God giveth: that God in all things may be glorified through Jesus Christ, to whom be praise and dominion for ever and ever. Amen.
10 In his kindness God called you to share in his eternal glory by means of Christ Jesus. So after you have suffered a little while, he will restore, support, and strengthen you, and he will place you on a firm foundation.
16 Therefore, confess your sins to one another and pray for one another, that you may be healed. The prayer of a righteous person has great power as it is working.
1 The Lord is my light and my salvation—
    whom shall I fear?
The Lord is the stronghold of my life—
    of whom shall I be afraid?
2 When the wicked advance against me
    to devour me,
it is my enemies and my foes
    who will stumble and fall.
3 Though an army besiege me,
    my heart will not fear;
though war break out against me,
    even then I will be confident.
3 But the Lord is faithful; he will strengthen you and guard you from the evil one.
6 do not be anxious about anything, but in everything by prayer and supplication with thanksgiving let your requests be made known to God. 7 And the peace of God, which surpasses all understanding, will guard your hearts and your minds in Christ Jesus.
8 The Lord is their strength,

And He is the saving refuge of His anointed.
7 The Lord is my strength and my shield;
    my heart trusts in him, and he helps me.
My heart leaps for joy,
    and with my song I praise him.
11 The Lord gives his people strength.

    The Lord blesses them with peace.
5 Trust in the Lord with all your heart,
    and do not lean on your own understanding.
6 In all your ways acknowledge him,
    and he will make straight your paths.
1 God is our refuge and strength,

    an ever-present help in trouble.

2 Therefore we will not fear, though the earth give way

    and the mountains fall into the heart of the sea,

3 though its waters roar and foam

    and the mountains quake with their surging.
14 The Lord is my strength and my song;
    he has given me victory.
16 But I will sing of your strength;

    I will sing aloud of your steadfast love in the morning.

For you have been to me a fortress

    and a refuge in the day of my distress.
28 And we know that all things work together for good to them that love God, to them who are the called according to his purpose.
7 For the Spirit God gave us does not make us timid, but gives us power, love and self-discipline.
20 For ever since the world was created, people have seen the earth and sky. Through everything God made, they can clearly see his invisible qualities—his eternal power and divine nature. So they have no excuse for not knowing God.
26 My flesh and my heart may fail,

    but God is the strength of my heart and my portion forever.
13 Now may the God of hope fill you with all joy and peace in believing, that you may abound in hope by the power of the Holy Spirit.
17 Notwithstanding the Lord stood with me, and strengthened me; that by me the preaching might be fully known, and that all the Gentiles might hear: and I was delivered out of the mouth of the lion.
12 I thank Christ Jesus our Lord, who has given me strength to do his work. He considered me trustworthy and appointed me to serve him,
---
For more articles on biblical themes, please reference our articles here.
This article references verses written from the King James Version (KJV), New International Version (NIV), New Living Translation (NLT), English Standard Version (ESV), and New King James Version (NKJV) translations of the Bible.