There are many timeless truths in the Holy Bible that resonate with believers of all ages. One such powerful verse is found in 2 Corinthians 5:7, where the Apostle Paul writes:
What does 2 Corinthians 5:7 mean, short explanation?
2 Corinthians 5:7 means that believers should live their lives based on faith in God and His promises, rather than relying solely on what they can see or perceive in the physical world.
Key Takeaways on 2 Corinthians 5:7
2 Corinthians 5:7 teaches believers should live by faith in God, not relying solely on earthly sight.
Walking by faith means trusting God's promises and eternal plan even amidst uncertainty.
The Holy Spirit strengthens faith, guiding and empowering believers beyond human limitations.
Biblical figures like Abraham and Moses exemplify living by faith rather than physical circumstances.
Practical ways to walk by faith include Bible study, prayer, Christian fellowship, and serving others.
Living by faith transforms believers, deepening their relationship with God and eternal perspective.
2 Corinthians 5:7 has powerful relevance, reminding us to trust in God's faithfulness in all of life's challenges.
True faith provides resilience, purpose, and hope as we align our lives with God's will.
The Context of 2 Corinthians 5:7
To understand this verse in its entirety, we must first explore the context in which it was written.
Paul's second letter to the Corinthians was a response to the various issues faced by the early church in Corinth. In 2 Corinthians 5, Paul discusses the concept of our earthly body as a temporary dwelling place, contrasting it with our eternal home in heaven with God.
In this chapter, Paul emphasizes the importance of living a life of faith in Jesus Christ, not merely relying on what we see with our eyes. This leads us to the heart of the matter: walking by faith, not by sight.
The Meaning of "Walk by Faith, Not by Sight"
"For we walk by faith, not by sight," is a reminder that our journey with God is not dependent on what we can physically see, but rather, our relationship with the Lord is built on trust, belief, and the grace He provides.
Faith in God is essential to living a life that pleases Him. Hebrews 11:6 states:
What is the moral lesson of 2 Corinthians 5 7?
The moral lesson of 2 Corinthians 5:7 is to trust God and walk by faith, even when circumstances are challenging or uncertain. As faith is a foundation of Christianity, it helps us maintain hope and confidence in God's eternal plan.
The Role of the Holy Spirit
As believers in Christ, we are gifted with the Holy Spirit, who guides us and strengthens our faith.
The Holy Spirit helps us navigate through life's challenges, even when our sight may deceive us. Jesus himself said it:
Throughout the entire Bible, the Holy Spirit plays a crucial role in empowering and equipping God's people.
In the Old Testament, the Spirit empowered prophets and leaders, like Moses, Samuel, and David, enabling them to fulfill their divine missions. In the New Testament, the Holy Spirit descended upon Jesus at His baptism and empowered the apostles at Pentecost, giving birth to the early church.
The Holy Spirit continues to work in the lives of believers today, providing comfort, guidance, and spiritual gifts for the edification of the church and the expansion of God's kingdom on earth.
Examples of Faith in the Bible
The Bible is full of examples of individuals who walked by faith. Abraham, the father of many nations, is a prime example. He left his homeland, trusting God's promise of a great nation. He believed in the Lord's word, even when circumstances seemed impossible.
Another striking example is that of Moses, who led the Israelites out of Egypt, guided by faith in God despite the numerous obstacles they faced. Moses trusted in the Lord's deliverance, even when it seemed unlikely.
For more scriptural examples of Faith in the Bible, see our article here.
The Importance of Faith in Our Lives
Faith is not just a concept reserved for biblical figures; it plays a crucial role in our everyday lives as believers. Living by faith means trusting in God's promises and believing that He is at work, even when we cannot see it. This kind of faith brings hope and confidence, allowing us to face life's challenges with the assurance that God is with us.
In times of uncertainty or difficulty, we must remember to walk by faith and not be swayed by what we see. By focusing on the eternal, our faith in God's promises will grow stronger.
Practical Ways to Walk by Faith
Walking by faith requires intentional effort and prayer. Here are some practical ways to cultivate a lifestyle of faith:
Study the Bible: Regularly reading and meditating on the Scripture strengthens our faith by revealing God's character and promises.
Pray: Maintain an open line of communication with God through prayer. Share your fears, doubts, and concerns, asking Him for guidance and wisdom.
Surround Yourself with Fellow Believers: Engage in a community of faith, such as a church or small group, to encourage and support each other in your walk with Christ.
Serve Others: Put your faith into action by serving those in need, reflecting God's love and compassion to the world.
Trust in God's Timing: Remember that God's timing is perfect, even when our plans don't align with His. Be patient and trust in His sovereignty.
The Transformative Power of Faith
As we walk by faith, not by sight, our lives will be transformed. We will experience a deepening relationship with God, increased resilience in times of trial, and a sense of purpose as we pursue His will.
Paul's message in 2 Corinthians 5:7 is as relevant today as it was for the early Christians in Corinth. By embracing a life of faith and trusting in God's promises, we can confidently face the challenges of our earthly journey, knowing that our eternal home awaits us in heaven.
Concluding 2 Corinthians 5:7 Commentary
In conclusion, the commentary on 2 Corinthians 5:7 serves as a powerful reminder of the importance of living by faith in our daily walk with Christ.
As we study the Bible, pray, and surround ourselves with fellow believers, we can grow in our understanding of what it means to walk by faith, not by sight. As we do so, we will experience the transformative power of faith and draw closer to God, our eternal source of hope and salvation.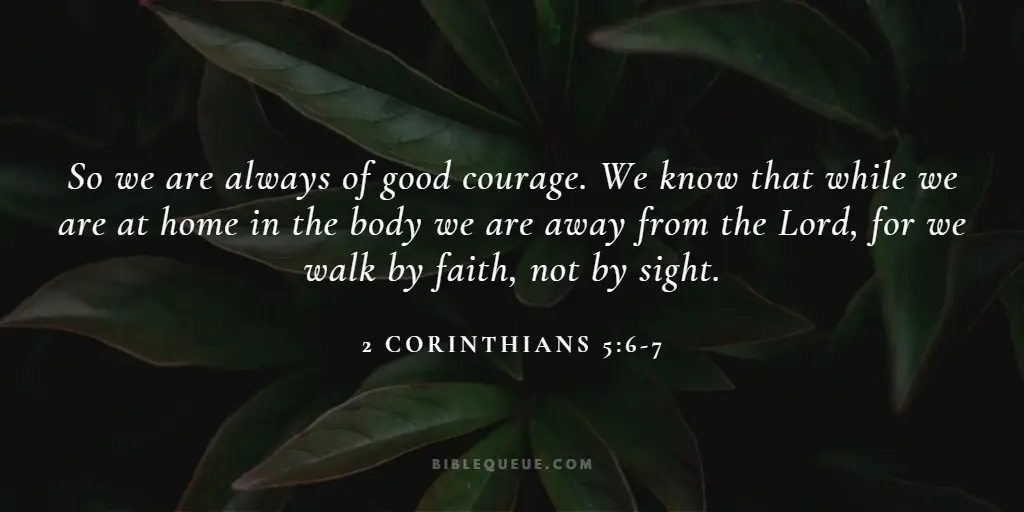 FAQs
What is the meaning of 2 Corinthians 5:7?
It means believers should live by faith in God instead of relying only on earthly sight and perception.
What is the context of 2 Corinthians 5:7?
Paul wrote about current earthly life being temporary compared to eternal life with God, leading to this verse.
What Does It Mean, "God Will Guard Your Heart And Mind?"​
"God will guard your heart and mind" means that when we trust in God and maintain a close relationship with Him, He will protect our thoughts and emotions from the negative influences of the world, helping us to maintain peace and focus on His promises. When we take this verse to heart, we build and expand upon our relationship with God and this is one of the tremendous benefits we should be grateful for.
How does the Holy Spirit help us walk by faith?
The Holy Spirit strengthens, guides, comforts, and empowers believers to live by faith beyond human limitations.
What biblical figures demonstrate faith over sight?
Examples include Abraham leaving his homeland by faith and Moses leading Israel despite obstacles.
What are practical ways to walk by faith over sight?
Some ways are Bible study, prayer, Christian community, serving others, and trusting God's timing over our own.
How does living by faith transform us?
It deepens intimacy with God, provides eternal perspective for earthly challenges, and instills purpose and hope.
What is the moral lesson of 2 Corinthians 5:7?
We should trust in God even when circumstances are difficult, knowing He is still at work.
How can we apply the message of 2 Corinthians 5:7?
Consciously fixing our thoughts on God's truth versus our perceptions, and trusting in His faithfulness.
Why is faith important according to 2 Corinthians 5:7?
Faith is essential because it pleases God and allows us to draw near to Him beyond human limitations.
What does it look like practically to walk by faith?
Praying through decisions rather than relying on human wisdom, praising God in trials, and serving others.
What Is The Reflection Of 2 Corinthians 5:7?
The reflection of 2 Corinthians 5:7 is that living by faith in God strengthens our relationship with Him, enables us to face life's challenges, and reminds us of our eternal home in heaven.
Read 2 Corinthians 5:7 in Other Popular Translations
(For we walk by faith, not by sight:)

2 Corinthians 5:7, KJV
---
For we live by faith, not by sight.

2 Corinthians 5:7, NIV
---
For we live by believing and not by seeing.

2 Corinthians 5:7, NLT
---
For we walk by faith, not by sight.

2 Corinthians 5:7, NKJV