If you're looking for a portable, easy-to-read Bible with high-quality materials, the Crossway ESV Large Print Compact Bible is an excellent choice. The edition under review is wrapped in buffalo leather and features a large 8-point font, it combines portability and readability into one convenient package.
In this review, we will explore its features, design, and user experiences to help you decide if this Bible is the right fit for you.

Features of the ESV Large Print Compact Bible
Buffalo Leather Cover: This Bible comes with a deep brown buffalo leather cover, offering a smooth and luxurious feel. Buffalo leather is known for its durability and attractive appearance, making it an excellent choice for a long-lasting Bible.
Large Print: The 8-point font size ensures easy readability for readers of all ages. This is especially useful for those who struggle with smaller text commonly found in compact Bibles.
Double Column Layout: The double-column format contributes to the Bible's compact size, allowing for easy transport and on-the-go reading. This can also improve readability by presenting shorter lines of text, which can be easier for the eyes to track from one line to the next.
Concordance and Additional Features: This Bible includes a concordance for reference, as well as the words of Christ in red. A ribbon marker and Smyth-sewn binding further enhance its usability.
Concordances can be valuable for Bible study, sermon preparation, or personal exploration of the scripture; While seeing Christ's words in red visually distinguishes the direct words of Jesus from the surrounding text and emphasizes the significance of Jesus' words, as they are considered the core of Christian doctrine and belief.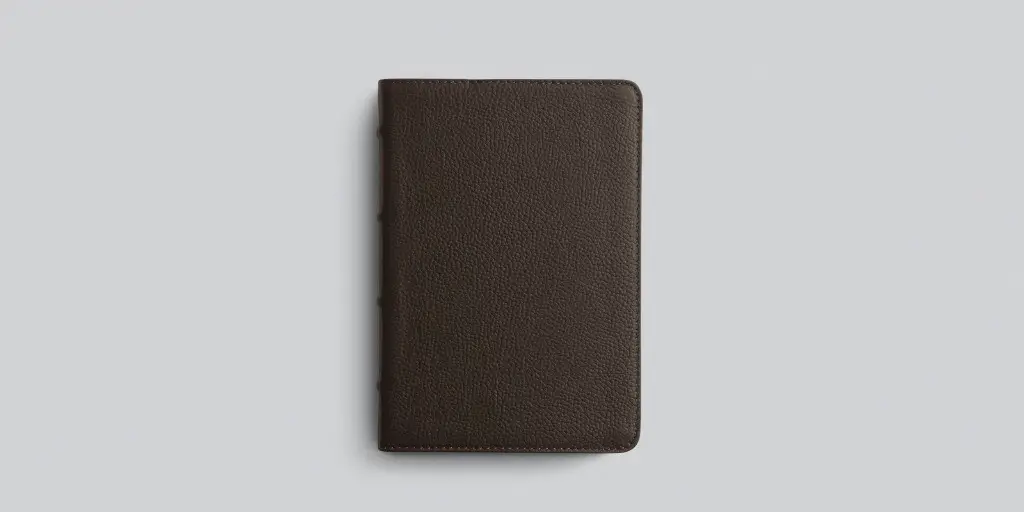 Design and Construction
The Crossway ESV Large Print Compact Bible measures 4.5 inches by 6.5 inches, making it an ideal size for carrying around. It weighs 19.18 ounces, which is a reasonable weight for a Bible with large print and quality materials.
This edition was published on August 31, 2020, and is part of Crossway's ongoing efforts to provide high-quality Bibles to meet the needs of various readers.
Design
On the exterior, the deep brown buffalo leather cover provides a pleasing texture and a chocolate brown color. The gold art gilt page edges and brown head and tail bands complement the overall design.
The spine features four raised ribs and gold lettering, including "HOLY BIBLE," the ESV logo, "ENGLISH STANDARD VERSION," and the Crossway logo. Although some might find the spine a bit busy, it remains an attractive element of the Bible's design.
Inside, the Bible has a brown paste-down liner and a Smyth-sewn binding, ensuring durability and longevity. Crossway is so confident in the quality of this Bible that they offer a lifetime guarantee.
Other Cover Styles
TruTone, Brown, Mosaic Cross Design
TruTone, Teal, Bouquet Design
TruTone, Brown/Walnut, Portfolio Design
TruTone, Charcoal, Crown Design
TruTone, Mahogany, Border Design
TruTone, Black
TruTone, Stone, Branch Design
Hardcover, Spring Bloom Design
Natural Leather, Brown, Flap with Strap
As well as the, also well liked, TruTone, Berry, Floral Design.

Readability and Paper Quality
The large 8-point font makes this compact Bible much more readable than similar editions. The words of Christ are printed in a dark red, almost maroon color, which adds to the overall readability.
As mentioned before, along with emphasizing Jesus' importance, the red lettering also aids in Bible study and memorization by helping readers easily locate and reference Jesus' teachings within the scriptures.
The paper is thin to maintain the compact size, and some ghosting is present. However, this is typical of compact Bibles and does not significantly impact readability.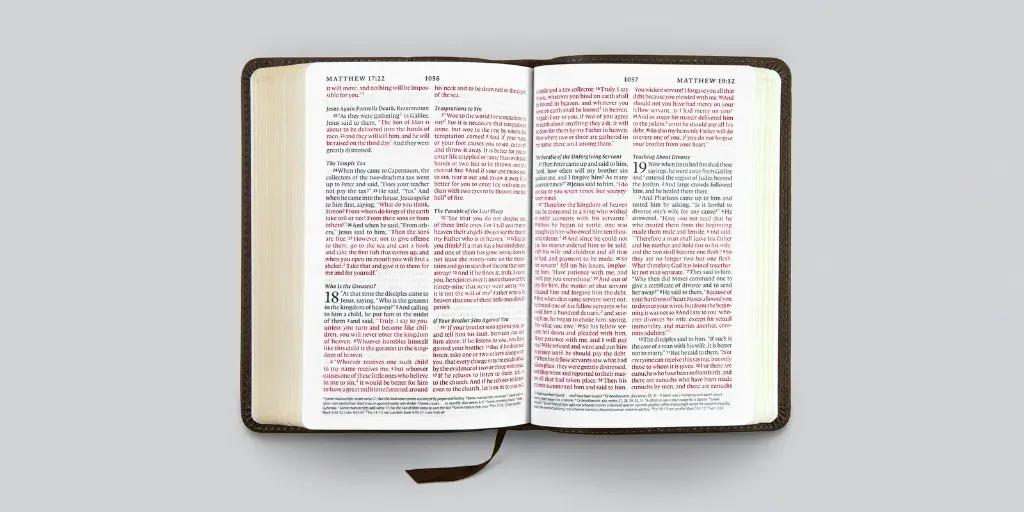 Conclusion
The Crossway ESV Large Print Compact Bible is an excellent choice for anyone looking for a portable and easy-to-read Bible. With its buffalo leather cover, large print, and durable construction, it is sure to be a cherished companion for years to come.
For a more comprehensive list of the Best Compact ESV Bibles, please see our article here.

Disclaimer: While this article is meant to inform and review, it cannot serve as a substitute for personal evaluation. It is important to weigh your individual preferences and needs when selecting a Bible.
For more on Bibles as a topic, such as the most popular translations or the best bible for beginners, please click here.